Overview of Whitework Embroidery, Part 1
Whitework is unique as one of the few types of embroidery that has rarely, if ever, gone out of style.
It is commonly found on undergarments, caps, aprons, collars, sleeves, baby clothes, and christening gowns across many eras. Once in a while it reaches even greater popularity, as it did during both the Regency and the Edwardian eras, from which you can find endless numbers of embroidered white dresses and blouses.
Why is whitework so popular? I believe it stems from a love of lace, and whitework and lace go hand in hand. In fact, many styles of embroidered whitework were originally developed to mimic costly bobbin and needle laces from France and Italy. Local women and girls could quickly work up embroidered items using many of the same stitches as needle lace, creating a new cottage industry with a less costly end product.
Early 18th c. whitework apron with drawn thread work. MFA 50.291.
Definitions
There is no clear division between embroidery and lace. In many cases, the only difference might be whether the ground fabric is muslin or net, or how much of the original fabric is left behind. Some define embroidery as the embellishment of existing fabric, while lace produces the fabric itself.
Trying to identify embroidery vs. lace can get very confusing. The lacy, openwork patterns of many styles of whitework are often considered to be needle lace in their own right. Surprisingly, this even includes Mountmellick embroidery, which doesn't include any openwork or eyelets at all.
For the purposes of this article, if the style relies primarily on tambour embroidery, satin stitches, buttonhole stitches, and other common embroidery stitches worked on fabric or net, I consider it whitework embroidery. If it is primarily made with lace bobbins, knitting, crochet, or threads without a base fabric, even if further embellished with embroidery, I consider that to be lace.
To qualify as Whitework Embroidery, it needs to be worked in white thread on white fabric. The stitches themselves are not exclusive to whitework, though individual styles may be defined by certain combinations of stitches.
Mid-19th century vestee with whitework embroidery and cutwork edges. The Met, C.I.49.1.11.
In addition to the standard embroidery stitches you may already know, Whitework may incorporate one or more of the following embroidery techniques:
Cutwork describes embroidery where an area of fabric within the design is cut away, leaving a hole in the finished piece. These areas are bound with thread to keep them from fraying, typically using a buttonhole stitch. The stitching may be done before or after the fabric is cut away. Cutwork embroidery can range from few simple eyelets to elaborate designs with large open areas. It can also be used to create scalloped hems or borders.
Drawn Thread Work is created by removing selected threads from the base fabric, then bundling the remaining threads into delicate geometric patterns using a variety of filling stitches. The most common application is a simple Hemstitch, but designs can be quite elaborate.
In Pulled Thread Work, small holes are created in the working fabric without removing any threads. Instead, stitches bundle the threads of the fabric together tightly to create open spaces and patterns.
In Shadow Work, most of the embroidery is completed on the back side of a sheer fabric. From the front, you will see a softly raised area outlined in Backstitch. From the back, you will see a closely-worked Herringbone stitch outlined in Backstitch. The thread adds both padding and shading to the work.
It may also include Tambour Work, which consists of chain stitches created with a small hook, much like crochet. Tambour embroidery may be white or colored, and is worked in a range of threads from delicate silk and cotton to heavy crewel wool.
Broderie Anglaise and Madeira Work
To begin, let's take a look at one of the oldest and most long-lasting styles of whitework embroidery. Broderie Anglaise and Madeira work are types of cutwork embroidery featuring round or oval eyelets arranged into floral designs – what we in the US would simply call "eyelet lace" today. While eyelet embroidery existed much earlier, Broderie Anglaise was extremely popular in 19th century England, hence the name "English Embroidery." It is most often seen on accessories, children's garments, and household linens.
Detail of cuff worked in Broderie Anglaise eyelets. From Broken Vows by Philip Hermogenes Calderon, 1856.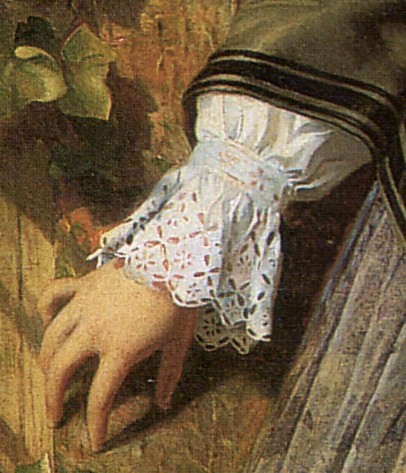 Some sources describe Broderie Anglaise as designs worked exclusively with eyelets, while Madeira Work adds additional details in satin stitch. However, in 1884, Thérèse de Dillmont stated in The Complete Encyclopedia of Needlework that "embroidery consisting entirely of eyelet holes used to be called broderie anglaise; nowadays it is usually known as Madeira work." She goes on to redefine Broderie Anglaise as a style of cutwork where the open areas are filled with buttonhole stitch bars, which could also describe Richelieu embroidery.
Madeira Work is associated with the Phelps family, who lived in Madeira during the late 18th and early 19th centuries. Elizabeth Phelps started an embroidery school on the island, and the family exported the local embroidery back to England in the 1850s and 60s.
The definition of Madeira work as using exclusively eyelets continues into the early 20th century. In Embroidery Hints: Fall and Winter 1910, the New York Embroidery House offers pre-stamped Madeira work pieces using only eyelets, along with eyelet designs that incorporate vines and bows that would be embroidered in stem or satin stitch. Interestingly, the embroidery still produced in Maderia today does not rely solely on eyelets, and includes the same buttonhole bars that Dillmont redefined as Broderie Anglaise.
Confused yet?
This is one of those times when it may be difficult to pin down an exact term for what you're looking at. Today, museums seem to use the term Broderie Anglaise for all styles of eyelet embroidery from the early 19th century and beyond. It's probably a safe term for items dated 1820-60, although if in doubt you can use the broader terms of Whitework and Cutwork.
Detail of boy's frock worked in Broderie Anglaise composed solely of eyelets, c 1855. LACMA, M.2007.211.89.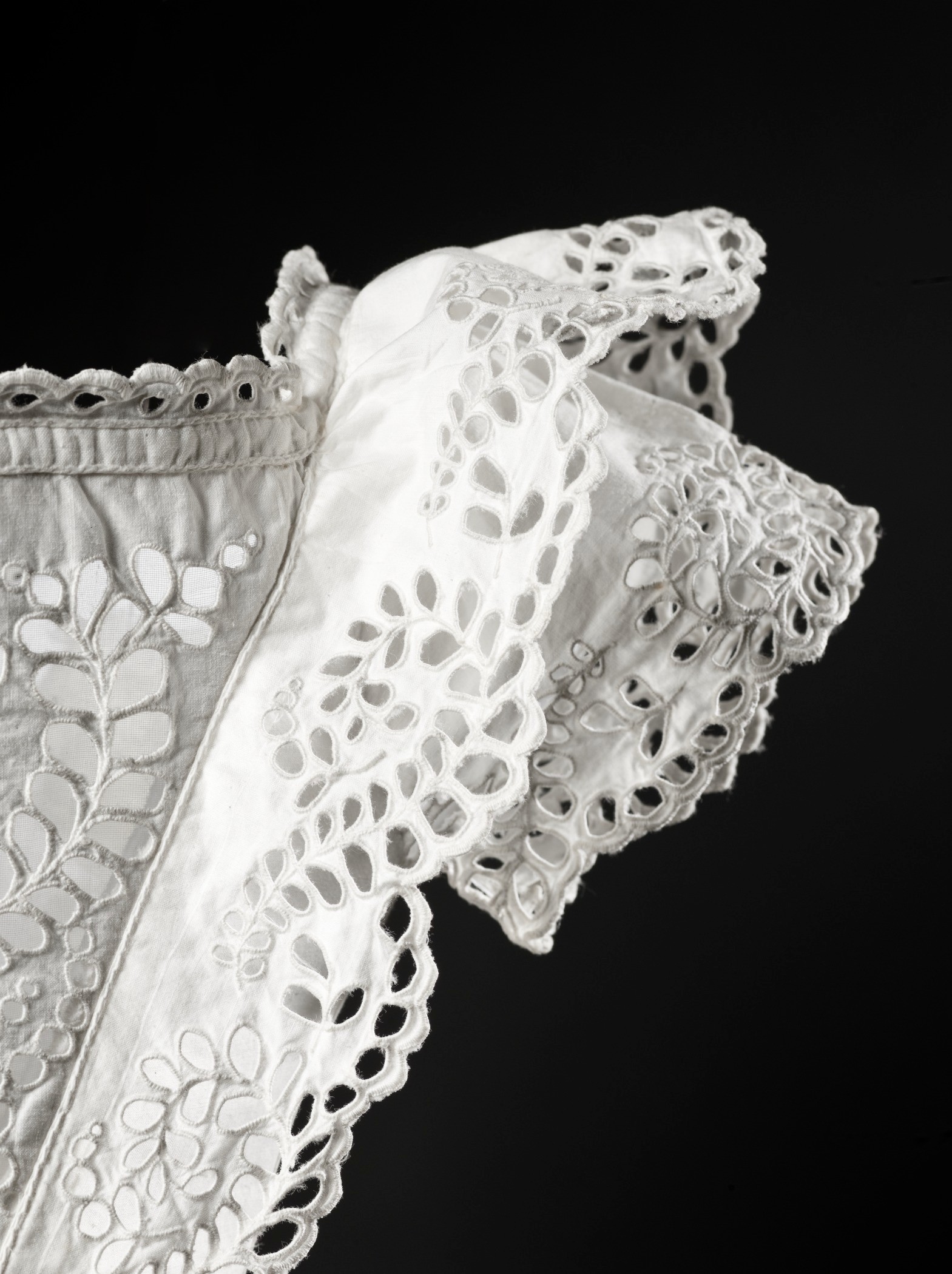 Detail of dress c. 1830, with Broderie Anglaise used at the hem. Note that while this is identified by the museum as Broderie Anglaise, it uses a combination of eyelets, satin stitch, and stem stitches to create the design. At the time it was created, it may very well have been classified as a different style of Whitework.  LACMA, M.2007.211.740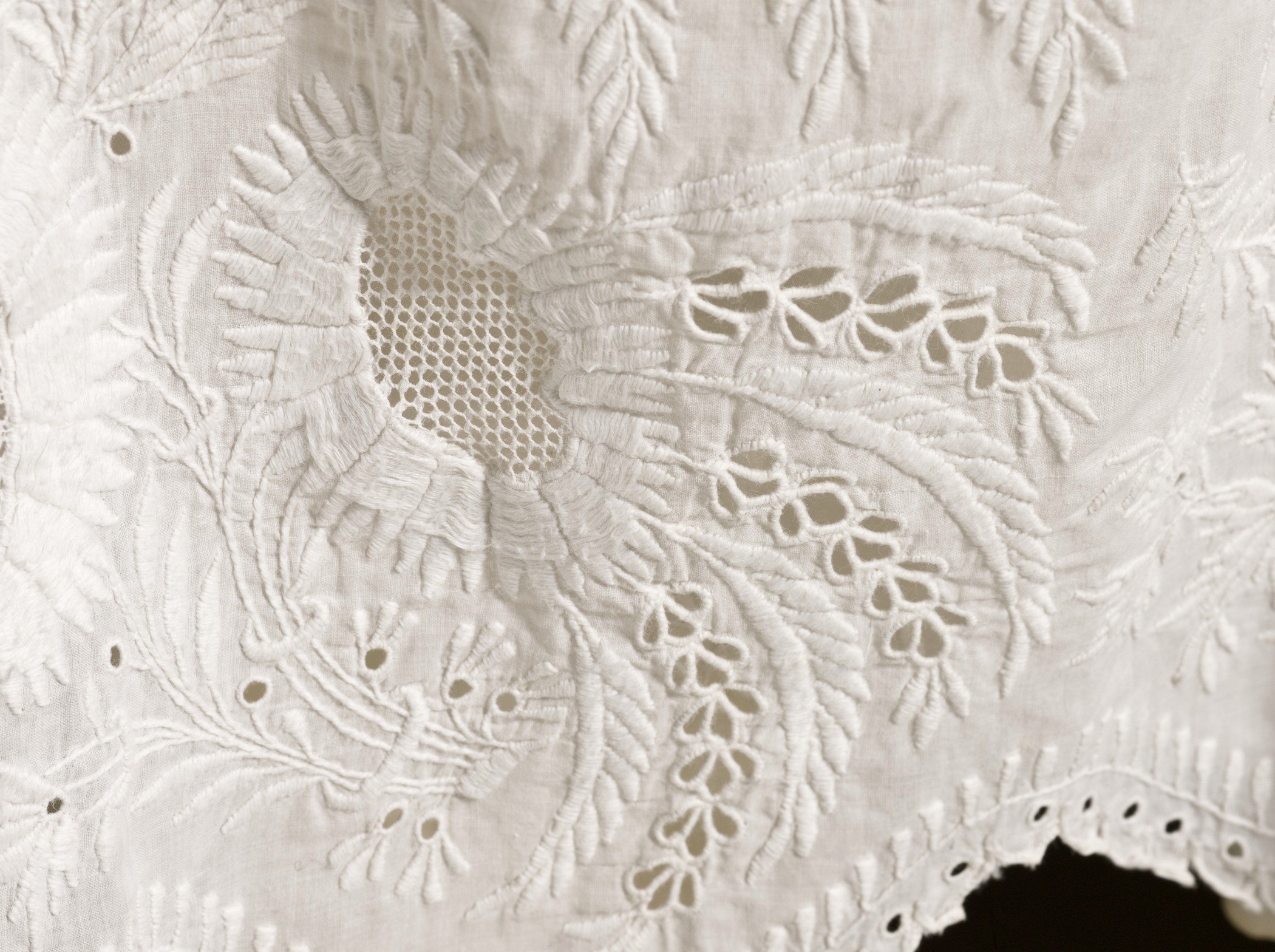 Illustration of Madeira work, c. 1884. This sample is made entirely of round and oval eyelets, which was previously the definition of Broderie Anglaise.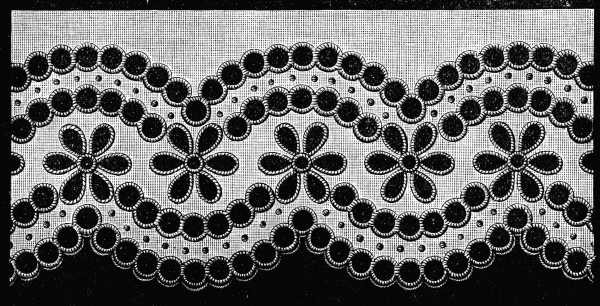 Maderia embroidery designs published in the early 20th century.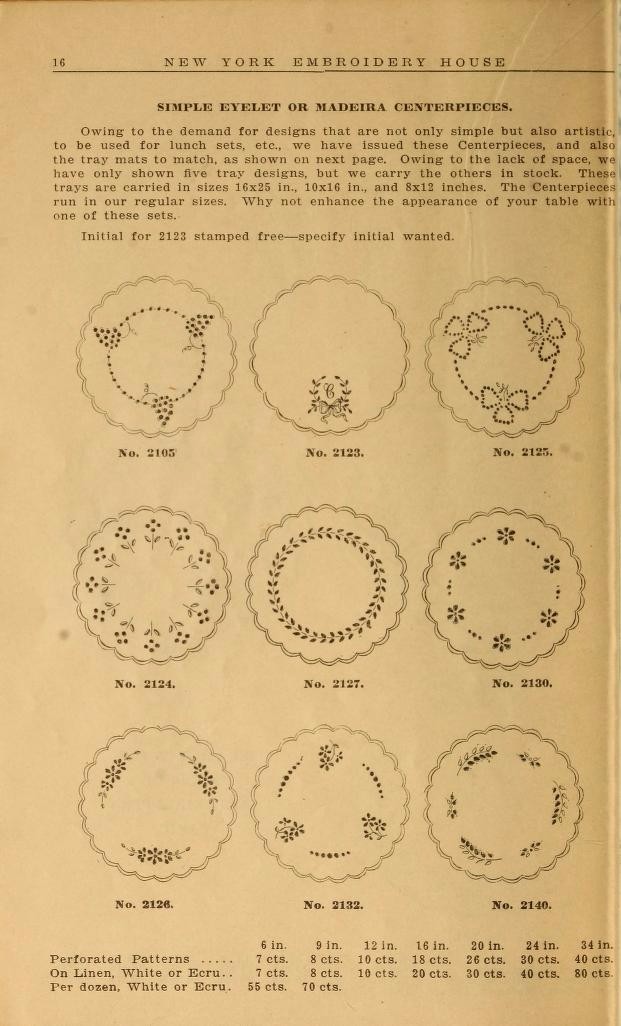 Despite some confusion in terms, Broderie Anglaise is still one of the most easily recognized forms of Whitework. In the next section, I'll discuss regional varieties of Whitework and how they differ from one another.
Resources