Overview of Whitework Embroidery, Part 2
As mentioned in Part 1, Whitework Embroidery at its simplest is any embroidery worked in white thread on white fabric. It has been around in many forms since the 1500s.
Whitework grew even more popular during the late 18th century and boomed during the early 19th. During this time, Whitework branched off into a number of distinct regional styles that could reproduce expensive laces at a fraction of the price.
1830s whitework pelerine, The Met 2009.300.3886.
A Growing Industry
India was the primary source of cottons and embroidered goods during the Georgian and early Regency periods. However, as Industrial Revolution innovations made it possible to spin and weave cotton in ever-increasing quantities, the United Kingdom became a major source of cotton textiles. By the early 19th century, Britain had so dominated the market that they even exported cotton to India, while restricting imported goods.
These technological innovations contributed greatly to the widespread popularity of Whitework in the early 19th century. For example, tambour embroidery could be copied by machine by the 1810s, instead of being imported from India. Netting could be machine-made by the 1820s, making it possible to mimic bobbin laces at a fraction of the cost. Before long, the United Kingdom was home to a wide variety of Whitework Embroidery.
Cottage industries sprang up across England, Scotland, and Ireland to produce embroidered goods and laces that rivaled those produced in other parts of Europe. Needlework schools opened to teach young girls to supplement their family's income. Queen Victoria supported these local industries, particularly the use of Honiton lace from Devon on her coronation gown, wedding veil, and christening gown in the 1830s.
By 1855, an issue of "Godey's Lady's Book" states that 250,000 women in the United Kingdom were employed with "sewed muslin and embroidery work," primarily in Ireland, Ayrshire, and Scotland. It was during this time that whitework branched out into a number of new and distinct styles, as each region used a specific set of techniques to create their products.
Other areas, such as France and Germany, also developed distinctive forms of Whitework. Some of the more popular and unique styles are outlined below.
Ayrshire Work
Ayrshire Work comes from the southwestern Scottish county of Ayrshire. It was developed to mimic Dresden embroidery from Germany and tambour embroidery from India. It was popular from about 1814 to the 1870s. It is most commonly seen on christening gowns, children's clothing, and accessories such as caps and pelerines.
The ground fabric is typically crisp, sheer muslin, and the embroidery is worked in fine cotton threads. The main designs are worked in satin or beading stitch. The centers of flowers and other areas of the design are filled with drawn work or cutwork and needle lace bars. Designs are often very ornate and incorporate a wide variety of lace filling stitches and eyelets. This is considered a "sewed muslin," as it is not plain muslin and it is not tambour work.
A trade sampler of Ayrshire embroidery motifs. MFA, 38.1132.
This christening robe shows off the wide variety of filling stitches used in Ayrshire embroidery. Dean Castle, EATX011a, b, c.
A child's gown decorated with Ayrshire embroidery. V&A T.40-1966.
Carrickmacross Lace
Carrickmacross Lace comes from Limerick in Ireland. It was introduced around 1820, and is intended to copy expensive Italian bobbin lace and needle lace. It is primarily seen on shawls, collars, fichus, and wedding veils. More recently, royal brides Lady Diana Spencer and Kate Middleton both wore wedding dresses embellished with Carrickmacross lace.
This lace is a combination of cutwork and appliqué, where fine muslin or linen is applied to a background of netting and outlined in tambour embroidery. The solid areas of the design are created from the muslin, rather than thread. It may be further accented with additional embroidery stitches or needle lace filling stitches.
Cap of net, with appliqués of cotton lawn outlined in tambour embroidery. MFA, 16.310.
Undersleeves of Carrickmacross lace. MFA, 52.594a-b.
Coggeshall Embroidery
Coggeshall embroidery comes from the southeastern English county of Essex. It was first introduced in 1812 by a Frenchman named Monsieur Drago. It is light tambour embroidery on muslin or net, and is characterized by delicate designs of trailing trailing wildflowers and leaves. It is not embellished with any additional embroidery stitches or appliqué.
Coggeshall remained popular until the 1910s, especially for wedding veils. Unfortunately, tambour work on netting is easily copied by machine, so this industry did not thrive as long as others.
Dresden Embroidery
Dresden embroidery is from Germany, and is meant to mimic more expensive bobbin and needle lace. It can be seen on many caps, aprons, fichus, and accessories during the 18th century.
The base is a fine, sheer cotton muslin embroidered in cotton threads. Dresden embroidery uses a combination of drawn thread work, pulled stitches, shadow work, tambour work, satin stitch, and buttonhole stitch to create variety of textures within the piece. The same style of embroidery on netting would resemble Limerick Lace.
These engageantes show the tambour embroidery, buttonhole stitch, and pulled thread work typical of Dresden embroidery. LACMA, M.81.97.2a-b.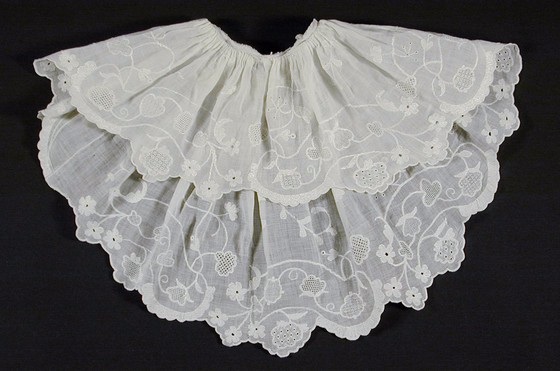 Fichu embroidered in the style of Dresden lace. MFA, 12.193.
Hardanger Embroidery
Hardanger is counted thread work from Norway that features geometric designs and drawn thread work. It is primarily seen on household goods, accessories, and some clothing. Its popularity spread during the early 20th century as patterns were published in ladies' magazines.
Hardanger is worked on even weave cloth with a thread color that matches the fabric. It uses a heavier cotton thread for satin stitches and a finer thread to create delicate filling stitches. Since it is worked on the grid of the fabric threads, designs are square, and do not have eyelets or flowing floral designs.
Collar with the distinctive geometric drawnwork of Hardanger embroidery. The Met, 08.244.8
Patterns for collars and cuffs in Hardanger embroidery.
Hollie Point 
Hollie Point uses buttonhole stitches to stretch the threads of the fabric apart, creating delicate openwork designs. The designs usually feature flowers, birds, and other traditional motifs. It was particularly popular on baby clothes in the 18th and 19th centuries.
A distinguishing feature of Hollie Point is that it is completely flat, with no raised or surface stitches. The bundles of threads create a pixelated image of solid areas and open spaces. The end result looks similar to Filet Crochet.
An elaborate cap combining a center of Hollie Point with drawn thread work and additional embroidery. MFA, 07.852.
An infant's cap with a band of Hollie Point down the back. MFA 24.441.
A man's waistcoat with Hollie Point creating a fill for some of the flower petals. V&A T.207-1957.
Limerick Lace
Limerick Lace is a combination of tambour embroidery and other embroidered filling stitches on netting. The industry started in 1829 by Charles Walker, who brought girls from Coggeshall, so the two techniques are very similar. However, Limerick lace uses a variety of filling stitches made with a needle in addition to the tambour work. Designs tend to be floral in nature, and are likely to incorporate shamrocks into the motifs.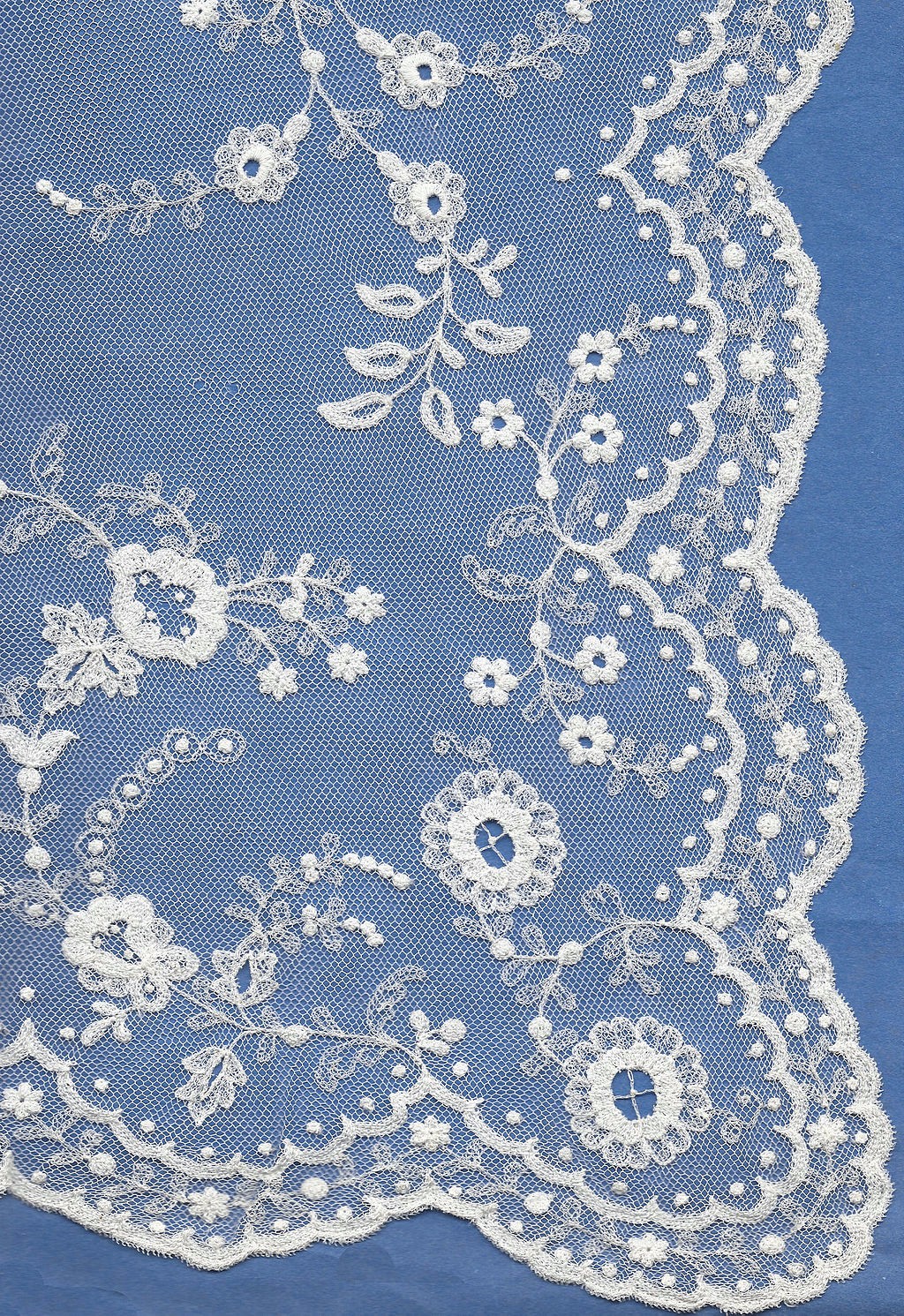 Mountmellick Embroidery
Mountmellick embroidery was developed in Ireland in 1825 by Johanna Carter. This is a sturdy embroidery using various thicknesses of matte white thread on strong, shiny cotton "jean" or sateen. The motifs are wild flowers, berries, ferns, oak leaves, and other local plants, worked in knotted and padded stitches. It is often edged with a knitted fringe.
There are no eyelets or open work in this style of whitework, yet it is still sometimes classified as a type of Irish lace. It is most often found on cases for lingerie and handkerchiefs, cushions, and other household items.
Handkerchief case with Mountmellick embroidery. V&A, T.100-1963.
Richelieu Embroidery
Richelieu embroidery is French cutwork based on earlier Italian lace designs. The style is defined by the open areas filled with buttonhole stitch bars, with or without picot stitches. It is seen on collars, cuffs, and household goods from the 17th century onwards, with a resurgence of popularity in early 20th century women's magazines.
18th century cutwork with open areas connected by buttonhole bars. The Met, 08.180.320.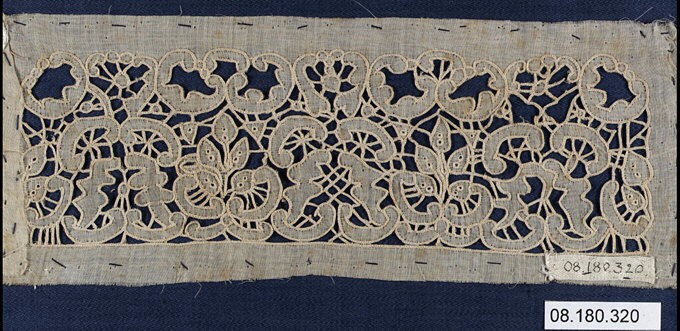 Richelieu Embroidery from Dillmont's Encyclopedia of Needlework.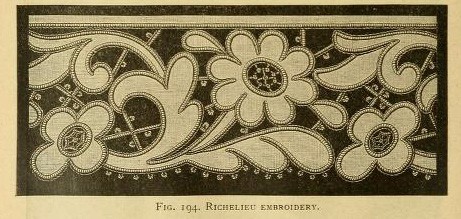 Conclusion
Of course, there are many pieces of white embroidery that don't fall into any of these categories, or that combine multiple techniques. Hopefully this gives you a fresh way to look at examples in museums and paintings, and an appreciation for just how many different styles and techniques fall under the simple-sounding heading of Whitework.
If you have questions, I'd love to hear them in the comments. You are also welcome to join the students in my Facebook group, and ask questions there.
Resources