Overview of Historical Embroidery Styles, Part 4
Today I'm taking a look at the embroidery of the early 1800s. Not much changes in the first few years, with 18th century embroidery styles still very popular. I left off with Whitework, and so that's where I pick back up.
Whitework
As we move into the Regency era, the use and variety of Whitework greatly expands. Sheer white muslin gowns become popular, and it's not much of a surprise that Whitework follows this trend. You'll see floral designs arranged in sprigged all-over patterns, vertical columns of embroidery, or embroidery slanting across the front of the gown ("broderie transversale") and around the hem. These may be worked in standard stitches or Tambour Work, in silk or cotton thread.
Much of this embroidered muslin was being imported from India, ready to be made into gowns and accessories. Patterns for embroidery designs were also published in magazines, such as Ackermann's Repository of Arts, Literature, Commerce, Manufacture, Fashions, and Politics and the Journal des Dames et des Modes.
This evening gown displays a wide column of Whitework embroidery down the center, c. 1804-5. The Met, 1983.6.1.
Crewel Work
If all white isn't your style, there are also some striking examples of bold, bright crewel embroidery on sheer white muslin. Fine fabrics and heavy wool threads seem like an unusual combination, yet there are quite a few extant examples. Regardless of whether they were stitched in multiple colors or pure white, the designs and motifs are generally the same.
Another example is this holly-themed dinner dress from the mid-1820s . The Met, 2015.98a,b. This design is also available in the shop.
Polychrome Embroidery
The polychrome silk embroidery motifs from the late 18th century can still be seen on accessories, men's waistcoats, and, less commonly, on gowns. This embroidered waistcoat c. 1800-15 features a more squared-off Regency shape paired with 18th c embroidery motifs. The Met, 2009.300.2835.
The few existing examples of gowns with polychrome embroidery tend to be on colored silks and cottons, rather than white. Two lovely examples are at Les Arts Decoratifs (4600.AB) and the DAR Museum. Both have colorful borders with designs reminiscent of those on 18th c. court suits.
Berlin Work
Berlin Work is a style of counted embroidery, usually stitched in wool on canvas, using cross stitch or tent stitch. The first designs were published in the early 1800s. It gained popularity in the 1830s, helped along by the discovery of aniline dyes. The new dyes allowed for a wide palette of bright colors, and Berlin Work patterns made the most of them.
Counted designs were easier for less skilled stitchers to execute than traditional embroidery designs. They were often sold by the sheet, rather than in a book, making them more affordable. This made it a widely-accessible and very popular art form.
These intricate designs used many colors to create realistic flowers and detailed patterns. It was used on home furnishings, such as cushions and fire screens, as well as accessories like slippers, purses, caps, and suspenders.
By the late 1880s, Berlin Work's popularity was already fading. Fashions had changed and people desired simple, less complicated designs. The Arts and Crafts movement was on the rise, and the publishers of Berlin Work designs did not keep up with current trends.
Uncut panels for men's waistcoat worked in Berlin Work, c. 1855. LACMA M.2007.211.824a-d
Berlin Work slippers. LACMA M.67.8.165a-b.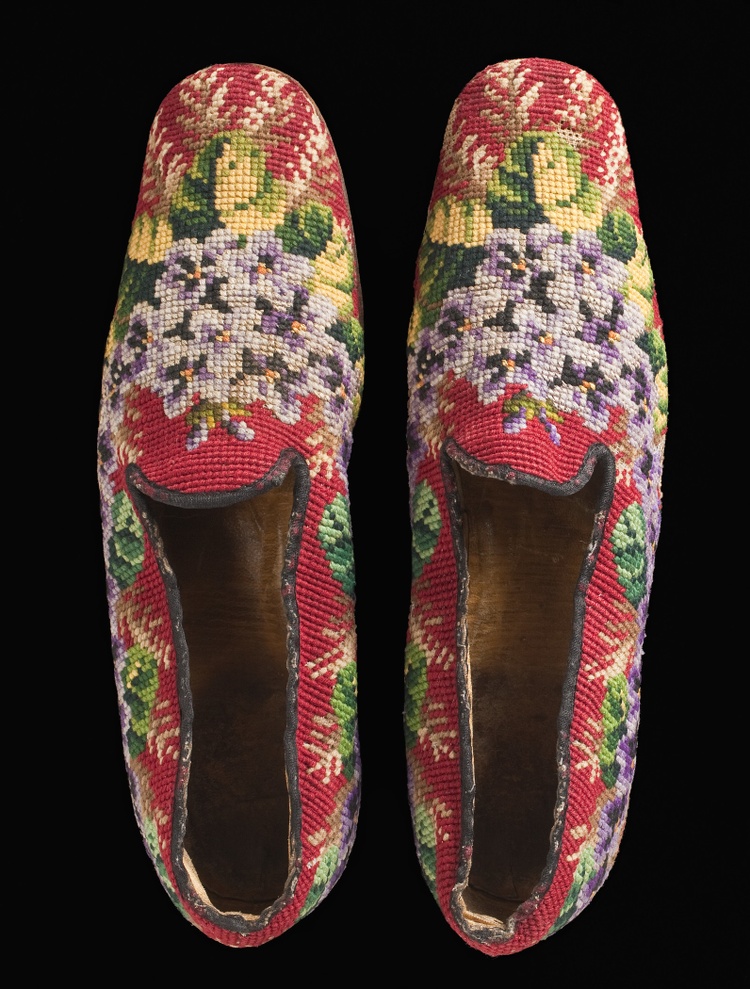 1820s-1830s
Embroidery designs don't change much as we approach the 1820s, although embroidery and other decorations begin to drop towards the hem of the gown. By the 1830s, many styles focus on self-fabric trims, pleats, and puffs, and it is increasingly rare to see embroidery on gowns.
Be wary of fashion plates from this period; what looks like embroidery is more likely to be other forms of surface decoration, such as beading, folded ribbons, or silk flowers. This 1830s gown looks embroidered in the full view, but the detail shows it is mostly beadwork with little embroidery. LACMA, M.2007.211.940a-b.
Early Machine Embroidery
By the 1830s, the Industrial Revolution is in full swing, and a lot is changing in the textile industry. India was the primary source of cottons and embroidered goods during the Georgian and early Regency periods. However, as new innovations made it possible to spin and weave cotton in ever-increasing quantities, the United Kingdom became a major source of cotton textiles.
A machine to make cotton bobbinet was patented in 1809. Tambour embroidery could be copied by machine by the 1810s. During this period, we also see the first sewing and embroidery machines. The hand embroidery machine was invented in 1828 and put into production in Switzerland the following year. Inventions such as these made it possible to produce ever-greater quantities of embroidered goods.
By the 1850s, machine embroidery is similar in quality to hand embroidery, although the machines were limited to creating straight borders and edgings. Switzerland was a major producer of machine embroidery, and even today, Swiss embroideries are considered to be the highest quality available. This French sample book from the 1850s shows a wide range of French machine embroidery designs, and similar styles of eyelet embroidery yardage and Swiss embroidery trims are still being produced. This means you are likely to find modern Swiss embroideries suitable for use on garments from the 1820s forward.
This marks the beginning of a major shift in fashion. In the next post, I'll take a deeper look at how these changes influence embroidery during the second half of the 19th century.
Do you have a favorite example of embroidery from this period? Please feel free to share in the comments!

Resources:
Books:
*Some of the links above are affiliate links, meaning, at no additional cost to you, I will earn a commission if you choose to make a purchase. These are marked with an * after the product name. I only recommend products or services I use personally and believe will add value to my readers, and I do not recommend products solely to get a commission.